Let's take a further look at diamond colour
Subtle differences in color can dramatically af­fect diamond value. Two diamonds of the same clarity, weight, and cut can differ in value based on color alone. Even the slightest hint of color can make a dramatic difference in value.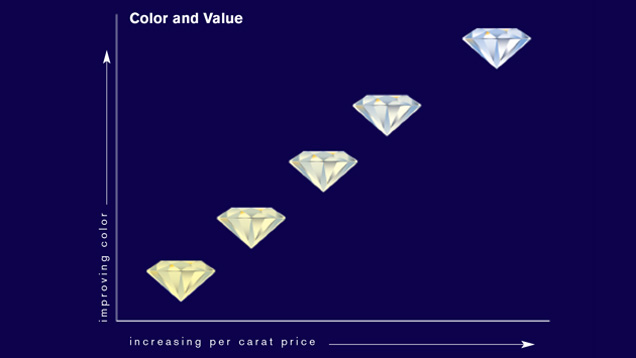 Diamonds come in many colors. Diamonds that range from colorless to light yellow and brown fall within the normal color range. Within that range, colorless diamonds are the most rare, so they're the most valuable. They set the standard for grading and pricing other diamonds in the normal color range.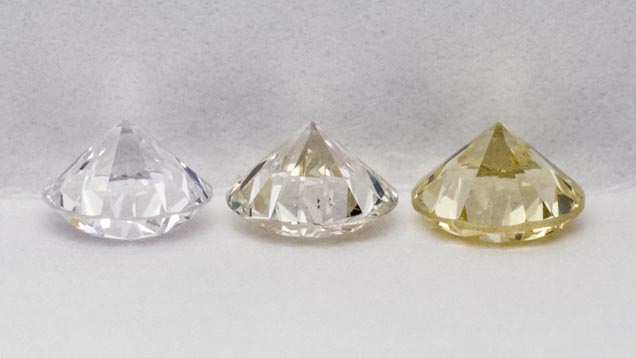 At the GIA Laboratory, diamonds are color graded under controlled conditions by comparing them to round brilliant diamonds of known color, called masterstones.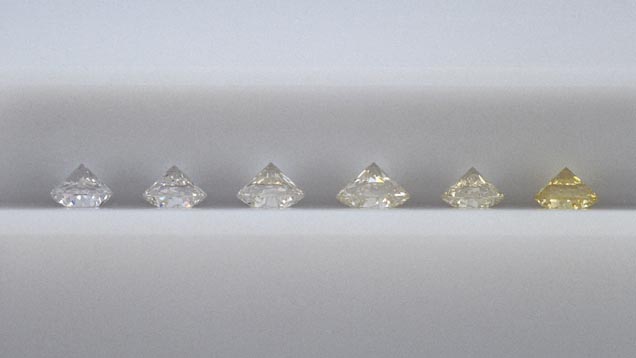 The GIA D-to-Z scale is the industry standard for color-grading diamonds. Each letter represents a range of color based on a diamond's tone and saturation.

Many diamonds emit a visible light called fluorescence when they're exposed to ultraviolet (UV) radiation. Although invisible to the human eye, UV radiation is everywhere. Sunlight contains it. Fluorescent lights emit it, too. Under the right conditions, you can see fluorescence in about 35 percent of gem diamonds.
Blue is the most common fluorescent color in gem-quality diamonds. In rare instances, fluorescence can be white, yellow, orange, or many other colors.
Strong blue fluorescence can make a light yellow diamond look closer to colorless in sunlight. Blue and yellow are color opposites and tend to cancel each other out, so blue fluorescence masks the yellow color. If the fluorescence is too strong it can make the stone look cloudy or "oily," which can lower the value of the diamond.