Appointments Available Mon-Fri 10AM-8PM Saturdays 10AM-3PM
Your custom engagement ring in 3 easy steps!
We pride ourselves on offering the very best custom design, product and service. With jewellery designers, bench jewellers, stone setters, polishers, and engravers, there is no jewellery item we cannot manufacture. We offer the complete custom jewellery design experience from start to finish!!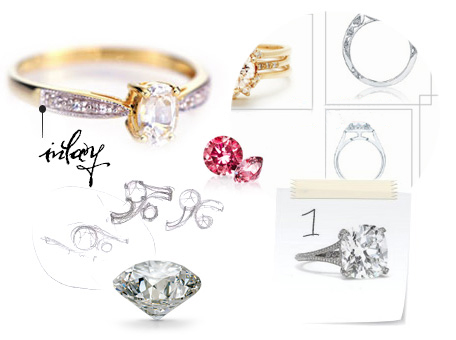 STEP 1: CONCEPT
Getting a clear picture of what you want.
Think about what the ideal engagement ring is to you. Take a look around online on our finished jewellery categories and custom designed jewellery gallery and find different aspects of rings that you like and dislike and print/save pictures of similar items for us to view together.
Be thinking about what size and shape you would like the diamonds or coloured gemstones to be and if you would like them to be set low or high, channel or prong, etc.
Whether or not you know exactly what you want we have the ability to design the perfect piece of jewellery for any occasion.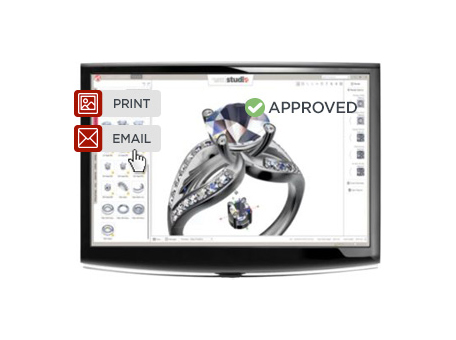 STEP 2: DESIGN
Bringing your vision to life.
Using the latest in CAD/CAM design technology we create your ring (pendant, earrings or whatever the case may be) with incredible flexibility.
Using the software, we are able to experiment with numerous ring styles and elements. You review everything and make final decisions from powerful 3D design renderings that you are free to preview/share on your computer/phone as well as print to show family or friends.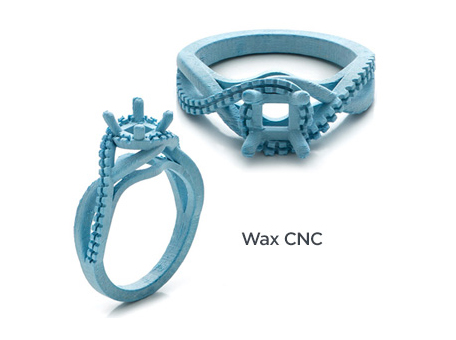 STEP 3: MANUFACTURING
From a mold to your very own model.
Once you have approved the picture of your custom designed jewellery item we move on to manufacturing the wax. The wax is cut on a CNC Mill that cuts along a path that the computer tells it to….all based on the ring model that you helped design and approve!
After the wax is carved we have you come back in for final approval. You will get a better understanding of the design this way and if there are any changes that are needed then we can change the design on the computer and produce a modified wax.
Once the wax is completed and approved then we cast the wax into the metal ( gold, palladium or platinum) of your choice. After casting we do the polishing, setting of the diamonds, and then the final polishing and inspection.
And we're done… congratulations!
The process takes about 2 – 3 weeks from your approval of a picture to the final jewellery being set and finished.
Have a question?
We take pride in having one of the most well respected names in the industry, and we stake our reputation on providing you with the very best in products and customer service so that your visit to us is as unforgettable as your special occasion.


Thousands of Customers Served


Ethically Sourced Diamonds
You can browse a selection of rings we've provided to our customers. Send pictures of your rings to us and we'll include them in our gallery!