Did you receive a gorgeous vintage engagement ring during your proposal? Or was it a sleek, modern and contemporary ring? Whatever the case, Randor can help you find the perfect wedding band to complement your engagement ring. These two rings should sit in harmony along your finger for the years to come. Here are some tips to consider when choosing the right wedding band.
If you have a solitaire design wedding ring with a princess, round or emerald diamond, avoid matching the ring and opt for a band that will bring out its best features: the diamond. This style is one of the easiest to work with because it has one main attraction!
Our Pavé set diamond wedding ring could be an excellent choice in this scenario. It features a set of three rows of round cut brilliant diamonds on an 18kt white gold band. This would add a little texture and shine to the duo without taking away from the bauble.
Our Bezel-Set Band  made of 18kt white gold could also be a great option for a solitaire ring or even for a bezel-set diamond engagement ring. Its unique use of shape between round cut and princess cut diamonds makes it the perfect addition to add texture or flare to simpler wedding rings or to support larger unique standout pieces.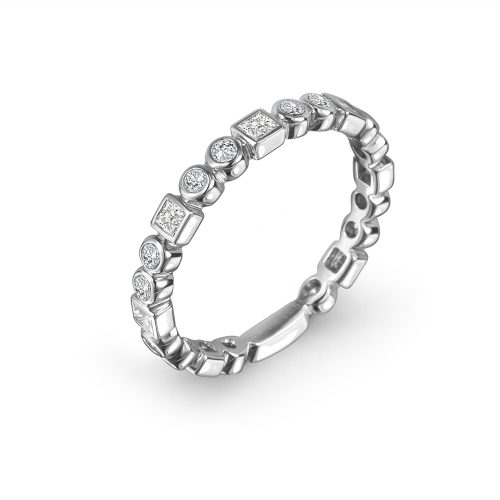 If your engagement ring is quite decorative, you might want to opt for a wedding band that has more solid features to strike a nice balance! Our Channel-Set wedding ring is a solid 18kt white gold ring that features seven round diamonds in a channel.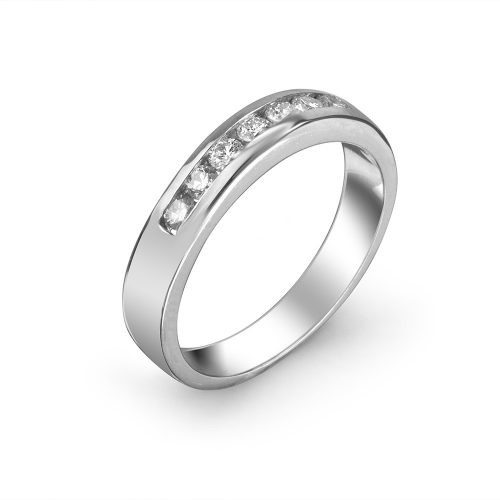 We can also custom design your wedding ring for you. This is a great option if you have an engagement ring that has specific requirements. We will examine its features, curvature and how it sits on your finger and design a wedding band with your needs in mind. If you prefer to talk to somebody before coming in to our store, ask us your questions to get the process started!